Audrina Cathleen Patridge (born May 9, 1985) is an American television personality and actress. She is known for being one of the four original primary cast members featured on the MTV reality series, The Hills. She also hosts The Talent Contest Network, YOBI.tv, and has starred in the films Sorority Row and Into The Blue 2
Patridge has a new reality series in the works, tentatively titled The Audrina Show.
Contents
* 1 Career
o 1.1 2006-2010: The Hills and film appearances
o 1.2 2010: Dancing With the Stars contestant
o 1.3 2010-present: Upcoming reality series
* 2 Personal life
* 3 Filmography
o 3.1 Television
o 3.2 Film
* 4 References
* 5 External links
Career
This section may contain original research. Please improve it by verifying the claims made and adding references. Statements consisting only of original research may be removed. More details may be available on the talk page. (August 2009)
2006-2010: The Hills and film appearances
After moving to Los Angeles, she was hired for a job at Quixote Studios as a receptionist. In 2005, Laguna Beach star Lauren Conrad and her best friend and roommate Heidi Montag moved into her building to shoot their MTV show The Hills. Partridge became friends with both girls and joined the cast of the series. In the second through fifth seasons of The Hills, she had been working for Epic Records.
On May 28, 2009, she confirmed during an interview on On Air with Ryan Seacrest that she was leaving The Hills to star in her own reality program documenting her life outside The Hills. Her final episode of the series was supposed to be on December 1, 2009. However, she later signed on for the series' sixth (and final) season while her new series, produced by Mark Burnett, set to air on MTV in mid 2010, was put on hold due to The Hills. Patridge appeared in more episodes than any other cast member.
Patridge launched her Hollywood career appearing on the reality show The Hills and then landed a minor role in Into the Blue 2: The Reef. The movie was released straight to DVD on April 21, 2009. Patridge has appeared in the TV series Mad TV and Do Not Disturb.
In August 2008, she was cast as Megan in Sorority Row; production was carried out from October 2008 to early 2009, and the film was released on September 11, 2009.
Patridge appeared in Carl's Jr. commercials during 2009.[5] She also has a small minor role/cameo in the 2011 comedy/drama Kids in America. She has denied rumors that she will play the part based on her former Hills co-star Lauren Conrad in the film L.A. Candy based on the book by Conrad. GUESS used her first name as a name for a sweater called "Audrina Cross Front.
2010: Dancing With the Stars contestant
During a live press conference on August 31, 2010, Patridge was confirmed to be a contestant on the eleventh season of Dancing With the Stars. Her professional partner was Tony Dovolani. Her first dance was the Cha-Cha-Cha and her second was the Quickstep. They were the sixth couple eliminated, finishing in seventh place.
a onblur="try {parent.deselectBloggerImageGracefully();} catch(e) {}" href="http://static.tvfanatic.com/images/gallery/audrina-patridge.jpg">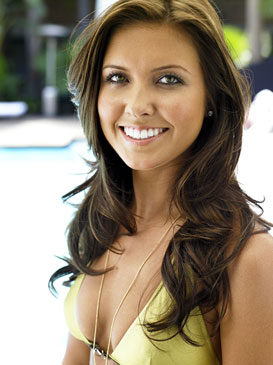 Audrina Patridge
Audrina Patridge
Audrina Patridge
Audrina Patridge
Audrina Patridge
Audrina Patridge
Audrina Patridge
Audrina Patridge
Audrina Patridge